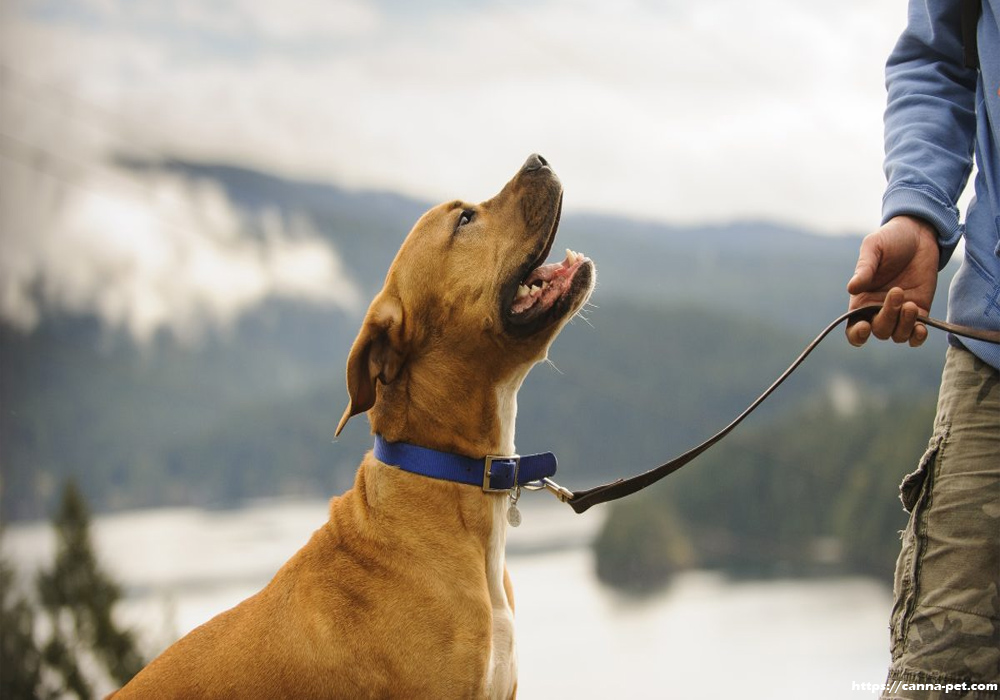 The dog collar and the dog leash are the most important tools to train your dog in how to fit into human society. As you know not all humans are dog lovers. So it is our responsibility, as owners, to teach our dogs how to respect the human boundaries. This in turn will also teach our human friends to respect the canine as part of everyday life. This also keeps our dogs safe and secure in their surroundings as we share our everyday life, play time and travel time with them. Here are a few guidelines for training your dog to wear a collar and leash.
When your puppy is about 4 to 6 weeks old, he or she should be old enough to wear their first collar, make sure it is light weight.
At this time show the leash to him, leave it around where he can sniff and investigate it, this will let him familiarize himself with it. Attach the leash to the collar several times during this adjustment period, this will get him adjusted to the sounds it makes attaching to the dog collar, but never leave it attached during this time.
Around 10 weeks your puppy should be old enough to try attaching the dog leash for the very first walk, but never force the issue. You can try later if your puppy looks or acts scared or apprehensive. Attach the leash several times it needed to make your puppy comfortable with what you are doing. Praise and talk to your puppy as you attach the dog leash, try calling to him and use the natural instinct of your dog to come to you and start walking, coaching him along the way. As always patience is the key to success. You should give your puppy time to be comfortable with the feel of the extra weight the dog leash will add to the collar; never force the issue! Allow your puppy to pull on dog leash, when the puppy stops pulling and there is loose tension, move away a few steps, encourage our puppy to come to you, reward him with loving praise and give him a treat of choice only when he does what he is told to do. Do this several times; reinforcing what you have taught him. With repetition and encouragement every day for several weeks you will find you have a very cooperative dog on your leash.
Sometimes after your puppy is comfortable with the dog collar and dog leash, he still might pull on the leash as you are walking. If this happens, you can use a head-control harness. This is attached to the front of the collar and the underside of the chin and collar. With pressure places on the harness, it makes the dog turn its head, this gets his attention and stops him from pulling. The use of the harness can be stopped in a few weeks and the dog will walk straight. The behavioral problem will be solved..
Below are a few types of collar and leashes to consider:
Designer Dog Collars – collars that are made of either leather or nylon. They come in all colors, with colored stones, glitter and all types of designs to match your dogs personality! All designer dog collars and dog leashes are great accessories for your dogs outfits.
Dog Training Collars – these dog collars are designed for dogs that are hard to collar train. You can also get electronic dog training collars if your dog has excessive barking habits and other behavior problems while wearing the dog collar and leash.
Nylon Dog Collars – nylon dog collars and dog leashes are very tough and long lasting. They also come in in a large variety of colors.
Leather Dog Collars – these collars and leashes will also be very long lasting. They are stylish and comfortable because they become softer with use; softened by the natural oils of your dogs skin. A wonderful dog accessory!
Buckle Dog Collars – a simple stylish collar for your dog. These have easy fasten and release mechanisms.
A Break Away Dog Collar – a quick release collar that will unclasp if a strong tug is made on the collar. This is a safety feature to prevent your dog from choking if the collar is caught on something. The collar will not unclasp when it is attached to the leash.
There are many varieties of dog collars and dog leashes on the market today. Here are a few considerations:
Always consider your dogs behavior before buying a collar.
What is your style and favorite color, do you need a dog collar for a special event to show off your dog?
The size of your dog, do you need a simple flat dog collar for a small dog or a wide leather collar