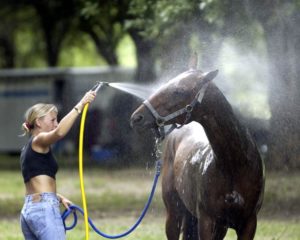 Horses require far more grooming than most other animals. While many house pets can get by with the occasional bath and brushing, horses need near-constant attention paid to their grooming needs. Suffice it to say, this can eat up a fair amount of time. Helping a horse maintain a healthy physical appearance requires consistency and perseverance, and if you're not up to the task, horse ownership may not be for you. New and prospective horse owners on the hunt for practical grooming advice would be wise to heed the following tips.
1. Hoof Cleaning
Hoof maintenance is a big part of proper horse grooming. Before every ride, it's recommended that you clean your horse's hooves, as this will prevent the accumulation of bacteria and other assorted filth. Failure to consistently perform this task can result in serious infection, cracking and brittleness, all of which stand to negatively impact the animal's mobility. You'll also need to have a skilled farrier periodically trim and balance your horse's hooves and re-fit his or her horseshoes. Additionally, investing in horse insurance can ensure that your animal receives the treatment it needs in the event of hoof problems.
2. Frequent Currying
In order to maintain a healthy coat, horses need to be curried on a daily basis. For new owners who are unfamiliar with the term, a curry is a type of brush designed to efficiently remove shed hair, dead skin cells and sweat from a horse's coat. In addition to removing the aforementioned elements, daily currying helps evenly distribute natural oils throughout your horse's coat, ensuring a sleek, shiny appearance.
3. Careful Bathing
Most horses should be bathed once every one to two weeks. When carrying out this task, make sure to use a shampoo that's specially formulated for horses, as standard pet shampoo … Read More